Owner Ryan Bowling, an Ottawa native, has always enjoyed restoring vintage cars to custom rides. Ryan spent many hours in the garage as a teenager working with his dad taking cars apart and putting them back together. When he turned 14, Ryan and his dad hauled home a '55 Ford. For the next several years, he and his dad worked on that Ford until it was just right. Most days, that Ford sits outside our shop and it also adorns our logo.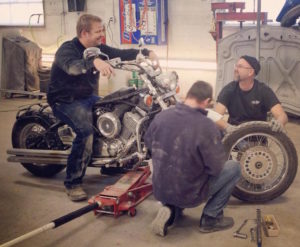 In high school, Ryan began working for a local body shop, in downtown Ottawa, where he learned under his mentor about how to provide the highest quality workmanship.  In 2003, Ryan began working for another local shop, where he not only gained knowledge about car repair but was given the opportunity to learn the day to day operations of a working collision shop by writing estimates and dealing face to face with consumers. Ryan was also certified in Paintless Dent Repair. He can push dents that range from small door dings to full hail jobs.
In 2005, Ryan began working on his first classic car for a customer. He worked out of his small garage on a 1962 Jaguar. By doing this, Ryan began to establish a reputation for building and restoring custom jobs to the customer's concepts. In the years since, Ryan has established a great reputation through word-of-mouth and high recommendations from others in the industry. To date he has restored '62 Jaguar, '55 Chevy 2-Door Sedan, '72 Chevy Pickup, '39 Plymouth Sedan, '68 GTO, '71 Chevy 4wd, and '39 Chevy 2 door Sedan, and he has several projects pending.
Ryan has always had a passion for all areas of car restoration and his dream has always been to own and operate a hometown, full service shop where he could use his experience with collision jobs, while maintaining an already established custom restoration business.