Bowling Collision and Custom, LLC in located just north of downtown Ottawa. We are a hometown, full service auto body shop.
We work closely with all insurance companies to restore your everyday ride back to new after an accident. We have a BRAND NEW GFS Downdraft Bake Booth. The down draft pulls dirt and other unwanted particles away from the car, allowing for a cleaner painting environment. Being able to "bake" the paint on allows for a quicker turnaround time, less paint mishaps and a better finish. We also have a drive on frame machine, complete with Spanesi Laser Frame Measuring System. Ryan is certified in Paintless Dent Removal, making us the only shop in Ottawa to offer this service in-house. He can push dents ranging from small door dings to full hail jobs. We also offer parts sandblasting, headlight restoration and windshield replacement. We can replace door hinges and window regulators, so you can again roll your windows up and down again. We have painted tractor parts and pulled derby cars on our frame machine.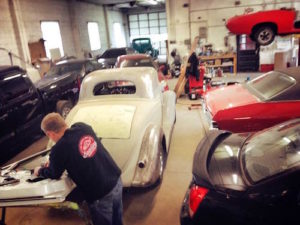 We are also a full service vintage restoration shop. Ryan has had a passion for restoring the classics since he was 14 years old, when he hauled home is first restoration, a '55 Ford pickup. Most days, that Ford sits outside our shop. Even while he was working for local collision shops in Ottawa, he kept restoring the classics for customers on the side, gaining a great reputation for high-quality workmanship. While we specialize in full restorations, we can also perform less extensive fixes to your classic ride. We have frenched in headlights, fixed air conditioning and replaced hood hinges on a few rides in town.
Owner, Ryan Bowling, has always had a passion for all areas of car restoration and his dream has always been to own and operate a hometown, full service shop where he could use his experience with collision jobs, while maintaining an already established custom restoration business.
Stop by for an estimate or just to see the shop!